Damascus Road University Ministry (DR:UM) is an international Christian student group in Maastricht. We are a group of students and young adults that come together each week at DR:UM night. Here we build lasting friendships by having fun together and learning more about faith and student life.
Every Wednesday is DR:UM night!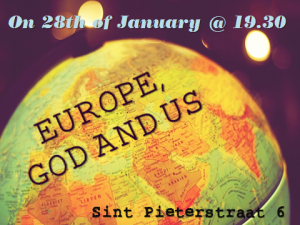 This week (January 28th) we host a lecture titled 'Europe, God and us'. In this guest lecture by Cedric Placentino of the Schumann Centre for European studies we will discover how much the story of Jesus has influenced our continent and how much the building of the EU has been based upon Christian values. (Doors open: 19:30 ; Start lecture: 19:45 ; End: 21:00).
Check our Events page for more info on upcoming DR:UM nights.

Like DR:UM on Facebook and stay up to date with the latest DR:UM news!
State of Europe forum Riga 2015
Are you interested in engagement in public life through politics, law, journalism, social activism, justice issues, business, economics, the arts, education? Then check out the State of Europe forum held from May 6 to 10 in Riga!