Welcome to the Damascus Road University Ministry (DR:UM)!
Specifically designed for university-age students, DR:UM is a ministry that invites students to make friends, encounter God, and experience life. Damascus Road University Ministry is committed to helping students establish supportive, lasting friendships and a growing relationship with God.
Come join us at D'n Hiemel on Wednesday at 19:30 and see for yourself!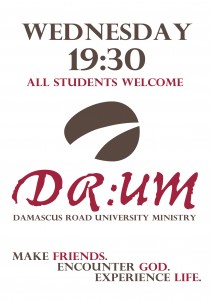 DR:UM through the eyes of the students
"DR:UM is where you meet the ones you love and, most importantly, the One who loves us all."
Annelies (19), from the Netherlands
"To me, DR:UM is a place where I can feel at home abroad. Everybody is so friendly and actually DOES care how I am today. From the beginning on I felt welcome and appreciated. Nonetheless, not only the people amaze me but it is also the presence of God that is so strong at DR:UM. In sum, DR:UM makes me happy, encourages me and has a very positive impact on my life."
Michael (24), from Germany
"A blessing. A place where you can be yourself, not be judged, but just loved. Where true friends can be made, and the ultimate friend is found."
Keshia (20), from Cameroon
Upcoming Events
DR:UM Night Wednesdays
We meet weekly on Wednesday nights at 19:30 at d'n Hiemel, Bernardusstraat 24a, just inside the Helpoort.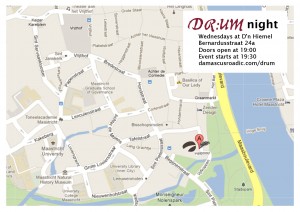 Small Group
During the week the guys and girls of DR:UM are having Small Groups, where they get to know each other better and learn as we learn how to become men and women of God.
The girls are meeting every thursday at 19:00 h at Markt 34D. And the guys are meeting every friday at 19:00 at Kasteel Schaloenstraat 15.
For more information
For more information about DR:UM, please contact Steve Kramer at steve@damascusroadic.com.