Kenya
In 2012 and 2013, Damascus Road sent teams to Nakuru, Kenya. Through contacts with a local church there, we shared the love and message of Jesus in prisons, schools, churches, and garbage dumps. Through that local church we continue to provide practical help by paying for food, education, and job resources for people in Nakuru.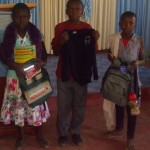 Schooling project
Many children are sent home from school for lack of paying school fees. Others who attend school have trouble concentrating on their studies because they are underfed.
We have helped to put and keep more than 85 children in school, as well as receive a meal at school, which might be their only food for the day.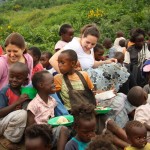 Feeding project
Many families live in poverty in slums, refugee camps, and garbage dumps. Their living conditions are considered to be frightful not only by most Westerners, but also their own countrymen. We help to provide one meal a month for families at one location, as well as rice and cornmeal that they can take home to ration and prepare themselves.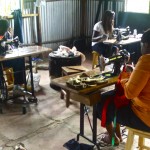 Sewing project
To date, we have bought six sewing machines, five sewing tables, and an overlook machine. The church keeps them available during the day for use, and locked at night for safety. A tailor was hired to provide sewing lessons for anyone interested – men and women. This provides job opportunities, as well as for parents to make and mend clothes for their own families.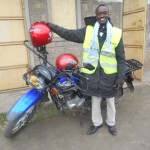 Motorcycle project
Motorcycle taxis are a common form of transportation. We invested in a motorcycle, driving lessons, and the cost of a license for one of the men we have worked with. The motorcycle can provide jobs for several drivers, as well as consistent income for the local church. Hopefully, enough income will be generated to pay for a second motorcycle.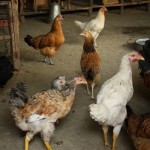 Chicken project
We provided for the setup of a chicken farm. This provides jobs and food, and seeks to be self-sustaining. Tasty, profitable – what more could you ask for?
Damascus Road cooperates with the non-profit Maastricht Shines for the Kenya projects.
You can give directly to Damascus Road's project account. To donate to the Kenya projects, please mention this in the Description/Omschrijven of the bank transfer.
Account: 51.75.07.919
t.n.v. Damascus Road
IBAN: NL84ABNA0517507919