Food Packages
In 2014, Damascus Road began accepting donations to provide monthly food packages for needy families and individuals in the area of Maastricht. In February, we started with five packages, which quickly grew to eight, and continues to grow.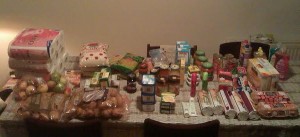 For those who want to help, there is the chance each Sunday during our meeting to pick up grocery lists and to donate money or non-perishable food items to be used for the food packages. Volunteers collect the items at a table designated in the back of the meeting area.
To request a food package, you can e-mail foodpackage@damascusroadic.com to receive more information.
You can give directly to Damascus Road's project account. For food package donations, please mention this in the Description/Omschrijving field of the bank transfer.
Account: 51.75.07.919
t.n.v. Damascus Road
IBAN: NL84ABNA0517507919