What We Believe
Our Compass
Just as a compass gives direction when traveling, our beliefs give direction to our spiritual journeys. The Apostles' Creed is a statement of faith that dates back to the very early church. It was written not long after the books of the New Testament, and Christians throughout the centuries have used it to explain and remember our core beliefs.
I believe in God, the Father almighty, creator of heaven and earth.
I believe in Jesus Christ, his only Son, our Lord.
He was conceived by the power of the Holy Spirit and born of the Virgin Mary.
He suffered under Pontius Pilate, was crucified, died, and was buried.
He descended into hell. On the third day he rose again.
He ascended into heaven and is seated at the right hand of the Father.
He will come again to judge the living and the dead.
I believe in the Holy Spirit,the holy universal Church, the communion of saints, the forgiveness of sins, the resurrection of the body, and life everlasting.
Our Road Map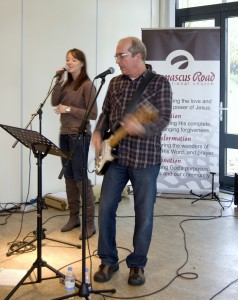 In life as well as in traveling, it's so easy to begin wandering aimlessly without a map — we need a destination, and we need directions along the way to keep us on track. At Damascus Road International Church, this is our road map as we walk life together.
Encounter: Experiencing the presence, love, and life-giving power of God through Jesus
God wants to meet you right in the middle of your road. He wants to step alongside you and talk with you. He really likes you, and He wants to know you. He wants to reveal Himself to you one-on-one and invite you on an life-altering adventure.
Transformation: Discovering God's complete forgiveness and the continuing life-change that follows
God looks at you and sees the best possible you. With His kindness, he wants to continually transform you into His very own likeness. You were created in the image of God, and walking this road with Jesus will reveal that reflection.
Illumination: Growing in the understanding and exploration of the wonders of God, His word, and prayer
God wants you to be His disciple, his student. As you follow Him, He will teach you as you pray and study His words to us in the Bible.
Destination: Fulfilling God's purposes for our lives as we serve Him in community with other believers
You are an important piece of the church. God has given each of us specific gifts, and when we all come together and use those skills, we strengthen each other. Together we love and serve others and meet the practical and spiritual needs of those in our church family, our city of Maastricht, and around the world.
Our ministry is practical and powerful: "The Spirit of the Sovereign Lord is upon me, for the Lord has anointed me to bring good news to the poor. He has sent me to comfort the brokenhearted and to proclaim that captives will be released and prisoners will be freed." (Isaiah 61:1)