DR:UM – Worship band (DR:UM Collaborative)
Who we are
We are DR:UM Collaborative; we hail from many different countries but all share a love for Jesus. We're all walking the path God has placed before us, and it's a lot easier when we walk together.
Self written songs
Recently, we started an initiative of writing, recording and singing our own original worship songs in DR:UM. The idea was to make worship more personal and intimate; to worship God from where we are as a ministry.
We decided to sell our songs too; our hope is not fame or riches, but rather to raise money to support and sustain DR:UM as a ministry. We love what God is doing here in Maastricht and we want to give something back! We don't take offerings at DR:UM, so this is one way in which we can support the university ministry. Our hope is that these songs lead you closer to God. He is what it's all about.
Trust
Our first official release is Trust. It was written following a worship night in DR:UM where we took time and waited on the Holy Spirit. Tom took all the scriptures and things God said that evening and put them into a song of worship, and an anthem of longing for a closer relationship with God even when surrendering fully to Him might seem scary. God is greater than our fears!
Open To You
Our second official release is Open To You. It's an easy, slightly funky song that says things like they are: "my heart is open to You my God, and I need You! I'm nothing without You and Your love!" We acknowledge our need for God and our desire for more of His glorious presence. As such, the chorus is a refrain of loving God and longing for His presence. The verses are about being open to what God has to say, or what He wants to do. And we will find Him when we seek Him wholeheartedly! Glory to God!
If you would like to support DR:UM by buying any of the tracks above, you can follow the buy buttons.
We want you!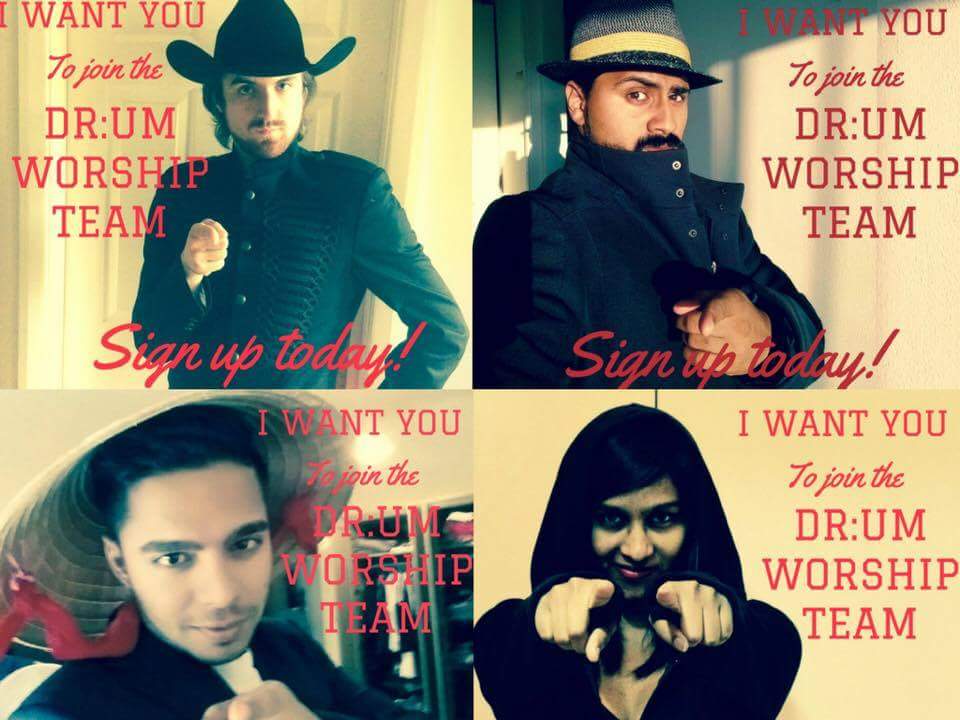 If you would like to be part of the band or would like to know more about it. Send an e-mail to Tom.
Spotify playlist
Tom compiled this great Spotify playlist for whoever wants to listen to the songs we play at DR:UM!